While running an errand for my project yesterday, I came across this…
From the information next to the hats:
"Cabinet no. 1
Hats
Echinoderms
1) 'Echinoderm headdress'
Das Rees for Alexander Mc Queen
2) 'Dragonfly no. 9'
Emma Yeo
3) 'Headdress'
Zara Gorman
4) 'Shell Hat'
Zara Gorman
5) 'Leaf Hat'
Philip Tracy"
While walking towards my bus stop, I took a picture of this...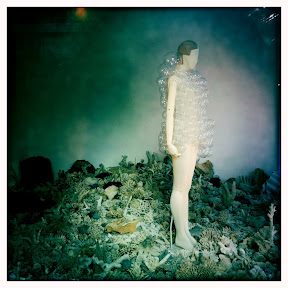 This window displays an environmental awareness to the sea and coral life.